(Header photo: Christian Joy, left, with Karen O, right.)
Costume designer Christian Joy's clothes are not exactly what you'd find in an American Eagle or a JCPenney's. They're made of leather and plastic and all kinds of unconventional materials that are shimmery and day-glo They're beaded and feathered, draped with yarn and pounded with grommets — definitely not for wallflowers, that's for sure. They're so far past "tasteful," they'd make even Betsy Johnson's head spin.
In New York City, back the early aughts, Christian Joy was just getting started dressing musicians. Rock and roll was having a bit of a revival with the popularity of the Strokes and the White Stripes and, of course, the Yeah Yeah Yeahs — a band that Joy is now practically a fourth member of due to her professional relationship with lead singer Karen O.
"We were both just starting out and ugliness just kind of happened," Joy explains of the costumes she designed for Karen in Meet Me In the Bathroom, Lizzy Goodman's excellent new oral history of the rock music scene in New York at this time. "It definitely added to her performance because people would talk about Karen's art-project costumes, and that's essentially what they were. I mean, the first stuff was just hideously ugly. She rocked it and really made it something, though."
Fast forward 17 years and she's created more than 150 unique costumes for the Karen that have been worn at all types of events – live shows, music videos, red carpet appearances, and photo shoots. She's also really gained quite the clientele, too, having designed for Brittany Howard of Alabama Shakes, Lucius, Esperanza Spalding, Santigold, and Childish Gambino.

"Usually I try to talk to them about what they're thinking and what they want, and then I'll sort of start doing research," Joy explains in an interview with MTV. "One of the main things that we do is develop a print for each artist. With a print, it becomes so much more individual, especially because it's screen printed, and it's their own… For me it's almost about the audience more than anything else. I love thinking about the audience and the whole psychological idea of what these people are going to think and how they're going to react to a color or how something moves on the stage."
In more recent years, Joy has worked on some pretty interesting projects, like creating a truly amazing LED jacket for Intel; a limited edition design for Vans, including shoes, t-shirts, and tote bags; and Where the Wild Things Are-inspired pieces for an Urban Outfitters pop-up shop in collaboration with Spike Jonze. She also designed all the costumes for Karen's rock opera Stop the Virgens in 2011. 
My friend Laura Hankin, an actress in Virgens, remembers the costumes vividly: "They were amazingly intricate and gorgeous. In every scene, [Karen] had some new configuration of feathers, or a cape, or a gorgeous wig, and I could've stared at them for hours. I was also really impressed with Christian Joy's ability to costume the 40-something young women in the chorus in a way that was totally practical – I think we all just wore cheap white graduation robes and short white-blonde wigs – but that ended up looking super-eerie on stage, especially once we all started vomiting blood and dying." 
To see more of her amazing costumes, be sure to check out Christian Joy's frequently updated Instagram page.
Also, for the record, my personal favorite item of Joy's: Karen's "KO" leather jacket, which made appearances in the music video for the YYY's song "Zero" and later on Karen, when she was a gorgeous pregnant gal on the red carpet.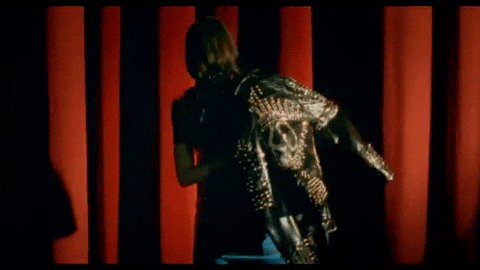 "So get your leather, leather, leather on on on on"