I'm not sure how this happened, but considering Bruce Springsteen is my favorite musician of all time, I've mentioned him relatively little on this blog so far. So why not dedicate an entire post to the Boss, the true embodiment of rock & roll? I started a list and eventually cut myself off at 18. (Though really, I could have listed reasons for days.) So here it goes.
Bruce is god…
1. Because he's hilarious. Sure, he's been known to write a murder ballad or two, but some of Bruce's songs are truly funny. Take the opening lines of "Sherry Darling":
"Your mama's yappin' in the backseat
Tell her to push over and move them big feet
Every Monday morning I gotta drive her down to the unemployment agency
Well this morning I ain't fighting
Tell her I give up
Tell her she wins if she'll just shut up
But it's the last time that she's gonna be ridin' with me."
Also, is there anything more joyous than this live version of "Sherry Darling" from 1984 during which Clarence plays Bruce's therapist and the band forms a conga line at the end? I think not.
Lastly, here's Bruce's strange, yet infectious laugh. Classic.
2. Because of "Badlands." It's the song that originally got me into Bruce in the first place. I grew up knowing a few of his biggest hits (mostly from Born in the USA), but it wasn't until I heard this song on the radio one afternoon when I was 16 and thought Who is that?! I love this song. About a year later, I'd collected all his studio and live albums and about two years after that I saw him live for the first time. While I love the studio version of "Badlands," nothing compares to the song being played live, particularly from his Live 1975-85 album. (Fun fact: It's one of the best selling live albums of all times!) These three CDs were on permanent rotation in my car for most of my junior year in high school. "Well, don't waste your time waiting/Badlands, you gotta live it everyday." BRUUUUUUUUUUCE
3. Because he doesn't look too bad for being in his 60s. Not bad at all…
…Wait, where was I? Oh right, reasons why Bruce is god.
4. (Speaking of things that are hot…) Because "I'm On Fire" has to be one of the greatest songs ever, with it's simple drum beat, thick, strummed bass line, and some haunting lyrics, "Sometimes it's like someone took a knife baby edgy and dull and cut a six-inch valley through the middle of my soul." Chills, man. CHILLS.
5. Because even his memoir was amazing. Despite the sex, drugs and rock & roll, some rock memoirs and bios can somehow be more dull than an insurance seminar. But not Bruce's. He apparently took seven years to write his, and boy did it pay off. Even if I didn't care about his music at all (what a bizarro world that would be), it would still be a fascinating book.
"'Like a Rolling Stone' gave me the faith that a true, unaltered, uncompromised vision could be broadcast to millions, changing minds, enlivening spirits, bringing red blood to the anemic American pop landscape, and delivering a warning, a challenge that could become an essential part of the American conversation."
Hot damn, boy! How is this the first book you've ever written?!
6. Because his live shows are basically a religious experience.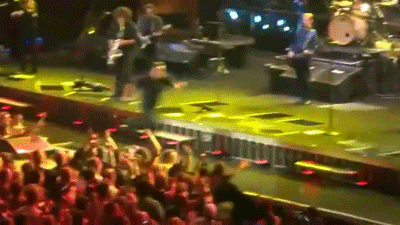 "Come on up for the rising…" I mean, really. I've been to a lot of live shows in my life and before he even comes out on stage, while the lights are still up and people are finding their seats, his shows already have a dramatically different feel to them. People don't go to them just so they can tell people they went. They don't go for the beer and nachos. They don't go to get away from their kids for a night. They are there because they LOVE Bruce. Two of the three Bruce shows I've been to, I've attended by myself, but I've always ended up chatting and bonding with the other people around me (who are sometimes there by themselves too). It is a truly unique experience.
7. Because of the lyrics from "Dancing in the Dark": "I'm just tired and bored with myself" and "Check my look in the mirror/wanna change my clothes my hair my face." I mean, who hasn't been there?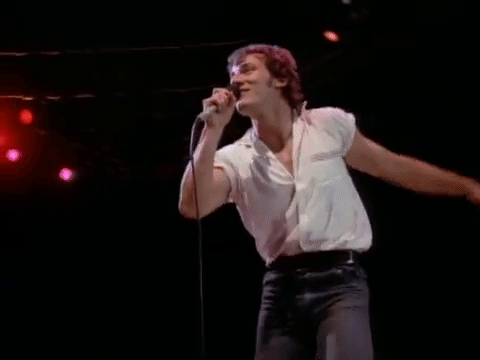 8. Because he feels like just as much of a geek around his musical idols as we do around him.
A truly classic moment of Bruce geeking out over getting to play "Twist and Shout" and "I Saw Her Standing There" with Sir Paul McCartney. ("I don't wanna make no big deal outta this, but I've been waitin' about 50 years," says Bruce.)
And here's Mumford & Sons geeking out over getting to play "Hungry Heart" with Bruce. (I totally get it, Mumford. I'd be peeing my pants too.)
9. Because he's cool with his fans, like when he invited a teenage kid to come up on stage with him in Brisbane and play "Growing Up." You can tell that'll be the highlight of that kid's entire life. It's only downhill from here, kid.
10. Because he always fights for the underdog: Blue-collar workers, immigrants, and those going through tough times. You'll always be relevant, Bruce!
11. Because he hangs with the best of the best. Exhibit A:
12. Because of everyone who plays in the E Street Band. This is one hell of a band. And a few of them have been playing with Bruce for nearly 50 years. Clarence, the Big Man, was a true talent and such an important presence in Bruce's life and on the stage.
There's Little Steven Van Zandt, "Miami Steve," who I'm sure could tell a million great stories from over the years if he wanted to (but never will). There's Patti and Max, Garry and Roy, and more recently Nils and Jake. Now THERE's a backing band.
(Check out Nils' two-minute guitar solo starting around the 3-minute mark.) WE'RE NOT WORTHY! WE'RE NOT WORTHY!
13. Because he can write those fun, party anthem tracks like "Rosalita" (is there any song more fun to dance to at a wedding reception? Get out of the way, "Uptown Funk."), but also those spooky murder ballads on Nebraska, and "Jack of all Trades" and "You're Missing," which legitimately make me weep.
14. Because his songs are perfection. The amount of time and OCD-level attention to detail he puts into his music, especially on Born to Run (the title track alone took six months to record) and Darkness on the Edge of Town is astounding. Take "Streets of Fire" for instance, a song on which he has such control and expresses such conviction. Then you get his guitar solo partway through and that organ throughout (I mean, who, besides the Phantom, ever raves about organ music?!) that brings it to a near-religious place. I'm in awe. "I walk with angels that have no place." I mean, Bruce, we get it. You're perfect.
15. Because of the sheer number of (initially) unreleased tracks that are just as spectacular as the songs that made his studio albums. In the late 90's Bruce released a collection of 66 songs called Tracks (unreleased, demo versions, and alternate takes) and pretty much all of those songs were great. How did songs like "Thundercrack" and "Johnny Bye Bye" (an ode to Elvis) not make the cut on any of his studio albums? Insanity.
16. Because he can fly.
17. Because he's taught me everything I need to know about Cadillacs and Chevy's. 
There is such a thing as Cadillac Ranch!
18. Because he still crowd surfs on the reg.
19. Because I may have listened to some of his songs thousands of times, but I can still hear a song like "Thunder Road" or "Backstreets" or "Atlantic City" and think, "man, that's great track."