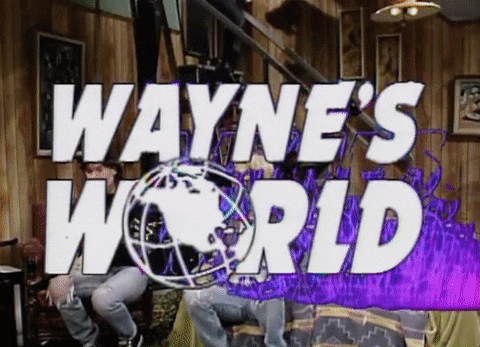 It's been 25 years since Wayne and Garth hit the big screen. Though a part of me would love more Wayne's World content, the thought of a reboot staring new actors or just a third installment of this movie makes me want to spew, quite frankly. But what if just the soundtrack was updated for a 2017 audience? (Not that there's anything wrong with the actual soundtrack – it's a freakin' classic.) However, I do wonder, if these two goons were around now, still sitting on the couch in Wayne's basement (an entirely plausible scenario), what would they be head banging to? What band t-shirts would Garth be wearing? And, what rocker's concert would they have heart attacks over getting backstage passes to?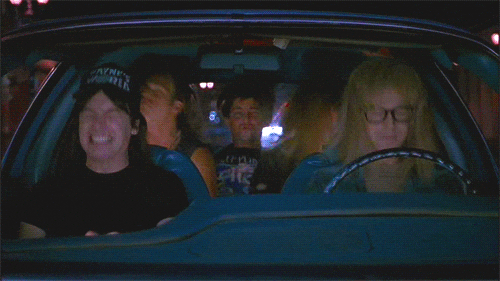 First things first though. Even in 2017, the one song a reimagined soundtrack should still absolutely include is "Bohemian Rhapsody." At this point, the Queen song is nearly synonymous with this movie. What could possibly replace this song? Something by Coldplay? (There is no way in hell Wayne and Garth would ever listen to Coldplay. That band is both bogus and sad.)
If there's anything I know about their taste in tunes though, it's that 1.) They love guitar-based songs that rock hard and, 2.) They love to have fun. Enter: White Reaper. This punk rock band knows how to put on a top-notch live show. Even though you can only really understand about 10% of what the lead singer is saying, that won't stop you from singing along. Stage diving and crowd surfing typically ensue at most of their live shows. Wayne and Garth would fit right in! Though most of White Reaper's catalog is fitting, "Wolf Trap Hotel," with it's scorching guitar solo, is my pick for this soundtrack.
"She will be mine. Oh yes, she will be mine," claims Wayne when he spots Cassandra and her band, Crucial Taunt, playing at the Gasworks heavy metal bar one night. Though Cassandra could really wail in '92, who might replace her in 2017? Perhaps a rocker like Karen O of the Yeah Yeah Yeahs. On a song like "Dull Life" Karen shows that she's got the pipes, she can rock, and yeah, she's magically babelicious too. Excellent!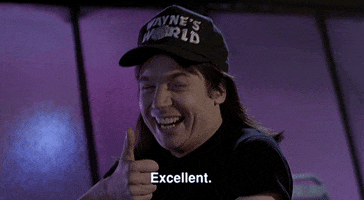 In the movie, Wayne tries to test drive a guitar at a local music shop by playing "Stairway to Heaven," but is quickly stopped by the store clerk who points to a "NO Stairway to Heaven" sign hanging on the wall. Though this is certainly a timeless rock song, I like to think that modern day Wayne might try a White Stripes tune, like "Ball and a Biscuit." 
Crucial Taunt plays Sweet's "Ballroom Blitz" in the movie, a catchy, quirky song about some late night club antics. How would this translate to a post-new millennium soundtrack? I think "Somebody Told Me," a classic by the Killers, would be the perfect track. (Also, the line "Well somebody told me you had a boyfriend/Who looked like a girlfriend" brings to mind the fact that Garth finds Bugs Bunny to be attractive when he puts on a dress and plays a girl bunny. Bonus points!
"[The White Stripes] didn't write tunes everybody liked. They left that to [The Killers]."
But what about that scene at Stan Mikita's when Garth imagines himself dancing to "Foxy Lady" in front of the woman that makes him feel like he's going to hurl? How do you replace Hendrix? Well, you don't. But "Woman" by Wolfmother would still be a fine choice, I think. Wolfmother has some serious guitar chops that Garth could really get down to.
Speaking of Garth, I think that if we were really to bring this movie into 2017, we'd need to update his t-shirt collection a little. Instead of Motley Crüe and Aerosmith t-shirts, I propose he wear shirts by Sheer Mag and together PANGEA.
Last but not least, in 2017, when Benjamin needs to get rid of Wayne and Garth for the night, he wouldn't give them backstage passes to Alice Cooper. Instead, they should check out The Kills. Particularly on "U.R.A. Fever," Alison Mosshart and Jamie Hince have just that touch of darkness that Alice Cooper brought to the stage. Though, I have to wonder, would Alison and Jamie also have interesting stories to tell about the history of the city of Milwaukee?